Viki Dunham Teacher/Senior Practitioner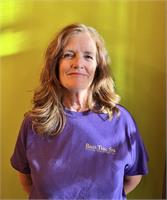 It has been a life full of family, love, travel and adventure. After relocating and looking for a new path to travel, I stumbled upon Thai Massage and was immediately drawn to it. Having 4 children, the need to nurture has been a huge part of my life. Being able to help heal through the power of touch is not only natural, but extremely meaningful to me.
After taking my training in Thai Massage at Bahn Thai Spa and becoming a member of staff, I travelled to Chiang Mai, Thailand to learn more.
Whilst there, I met likeminded people from around the world who were also in the midst of changing their path, yearning to do something with purpose.

I have completed additional training in Thai Massage Energy Lines, Advanced Therapeutic Massage, and Foot Reflexology. I am here to help spread this healing art and I am now half way through their Certified Advanced Practitioner Training (CAPT), completing the Level V teacher training portion in May 2016. This allows me to teach Level 1 here at Bahn Thai School.
Viki Dunham Teacher/Senior Practitioner is currently not instructing any classes.