Monika Volkmar Senior Practitioner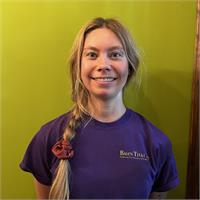 I was intuitively drawn to Thai massage through an influential yoga teacher, who was also a Thai massage practitioner. When my yoga studio hosted a Thai Massage course I felt the need to learn this skill, knowing it would also enhance my personal training practice.
My personal training clients are primarily dancers, who need their bodies to perform at a high level, but are often plagued by chronic injury. Thai massage has helped my dance training practice grow in ways it wouldn't have otherwise. The ability to use my hands on my clients, to feel how they move, hold tension, and sometimes experience pain adds a new dimension to my abilities to help them reach their goals of improved fitness, performance, and pain-free movement.
I feel blessed to have Thai massage as a skill that I am able to use it every day in conjunction with assessment and movement to help dancers prevent and rehabilitate injuries, and to perform and feel their best while creating beautiful art with their bodies.
I am a dancer, strength and conditioning specialist (NSCA), Thai massage practitioner, and NeuroKinetic Therapy™ practitioner. I earned a BFA in dance performance at Ryerson University but after a severe injury forced me to stop dancing, I embarked on a journey in strength and performance training and Thai massage. Through The Dance Training Project, I teach dancers the importance of strength training for career longevity and technical excellence.
Pressure: Moderate to Deep
Monika Volkmar Senior Practitioner is currently not instructing any classes.