Bahn Thai Spa: Mission Statement
We are a passionate collective of RMT's, Senior Practitioners, Practitioners, Apprentices and Students dedicated to the ancient art of Thai massage and have recreated an authentic experience in our unique jewel-colored "Zenzone" in downtown Toronto.

As a Spa, we want your experience with us to be memorable. We go to great lengths to ensure your comfort from the moment you walk in the door. Sip on Lemongrass tea as you wait to be whisked back to our Zen Zone. Sink into our soft bamboo sheets and pillows. Add on an Infrared Sauna to warm yourselves first and feel the stress melt away. Take some organic Lemongrass oil-infused Epsom Salts home with you to enhance your experience. We do offer packages but don't offer memberships because we already consider you part of our community!

As a school, we offer Professional and Recreational courses in Traditional Thai Massage through our affiliation with the infamous ITM School in Chiang Mai, Thailand. ITM has trained over 16,000 practitioners in this wonderful, transformational healing art. We are the only school in North America to offer an in-house Student Program for our Level 1 graduates to have access to continuous practice and an opportunity to advance to higher levels. Many of our students have already journeyed to Thailand to take more courses at ITM and other schools.

In Thailand, massage is considered to a necessity, not a luxury. It is our intention to make this possible here in Canada by making Thai massage accessible to all through our affordable pricing structure: Students, Apprentices, Practitioners, Senior Practitioners (all Licensed Holistic Practitioners with the City of Toronto) and RMTs. For a more detailed explanation of our pricing options, scroll down further.

Established in 2014, we are very proud of the fact that our combination of both Spa and School allows for our customers to experience Thai massage at a price point they can afford, and our students have continuous opportunity to grow, learn and be ultimately become a part of our team. As part of our Student Curriculum and the requirement for case studies, we intend to work with hospitals, hospices, cancer care facilities, practicing our art through volunteering in our community.
What is Traditional Thai Massage? We do your yoga for you - and so much more!
Traditional Thai massage, or Nuad Bo-Rarn, was born over 2500 years ago by the physician to the Buddha, Shivago Komarpaj, and is a full-body massage performed on a mat on the floor with both parties wearing loose, comfortable clothes. A blending of elements, yogic stretching, fascial stretch therapy, acupressure, t'ai chi, breathwork and meditation, and incorporates traditional Thai medicine. The practitioner uses his/her hands, feet, arms and legs to guide the recipient into various yoga postures. It is a graceful, flowing, harmonious dance between giver and receiver, combining rhythmic rocking, palming and thumbing along the sen lines. Deep, sustained pressure ensures that the myofascia, or the muscle's connective tissue, soften and relax in order to release the flow of energy along the sen, and to prepare the client for the large-scale stretches that follow.

Thai massage made its way into hospitals and became part of Traditional Thai medicine, along with herbal medicine and spiritual meditation. Families who passed down the techniques from generation to generation ingrained it in the fabric of Thai culture through the practice. Many of the Thai massage stretches and movements are also used in traditional Western sports medicine (known as Fascial Stretch Therapy) for the ability to reset resting muscle length, and find and relieve unhealthy muscle and joint tensions. At Bahn Thai Spa we have a host of practitioners from different backgrounds - dance, Crossfit, Muay Thai boxing and Triatholon athletes to name but a few. This helps our practitioners address the needs of our clients whatever their level of fitness is.

The benefits of Thai massage are numerous for not only maintaining good health but treating a wide spectrum of health concerns:


increases flexibility and range of movement

eliminates muscle pain and muscle spasms

allows for a significant release of deep, emotional distress

stimulates blood circulation and lymph drainage

stimulates internal organs

relieves fatigue, swollen limbs, painful joints, and headaches

improves postural alignment calms the nervous system and promotes a deep sense of relaxation
I've had Thai massage in Bangkok and Chiang Mai. Are there different styles?
There are two dominant styles of massage in Thailand: Northern and Southern. The latter tends to be a little more invasive and therefore potentially painful, but if the practitioner is trained to listen to the body, it should never become unbearable. In addition, there is a "dialect" of Thai massage. Much like language, it is taught in a way that makes each experience similar, but not quite the same. Depending on which village in which part of the country you are from, there are nuances that are passed down to the practitioners that make each experience very unique!
Meet Our Founder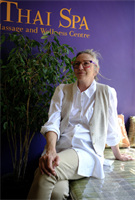 Why are there so many pricing options and what is the difference between Practitioners and Registered Massage Therapists?
At Bahn Thai Spa we strive to make Thai massage accessible to everyone, just as it is in Thailand. We have Registered Massage Therapists (CMTO) for those with Healthcare benefits and Licensed Holistic Practitioners (City of Toronto) for those without and can suit any budget.

Registered Massage Therapists have trained in a variety of different modalities including Thai massage and are available for anyone with Health Benefits.

Senior Practitioners have 2 or more years experience in Thai massage, trained in many different schools, and in some cases have been practicing their entire lives!

Practitioners have studied in at at least one school, have taken several advanced courses and have more than a year's practical experience.

Apprentices are graduates of Bahn Thai Spa school, and have had consistent practice for a minimum of 6 months and have successfully grown a client base.

Students have completed all Level 1 requirements and have attained their Licenses from the City of Toronto. They are ready to dive into this practice but need a little time to hone their craft!

With all the different pricing options no one has to miss out on what should be part of one's overall health and wellness!


How long does a session last?
Thai massage can be performed in as little as an hour, but to get the maximum benefits, we recommend 90 minutes or more. Two to two and a half hours is frequently considered the norm for a Traditional Thai Massage in Thailand.

We are often asked why we can't do a shorter version, say for 30, or 45 minutes. We can, but you won't receive the full benefits that Thai massage has to offer. It's that simple!
Is Thai massage painful?
Thai massage should never be painful unless the therapist is inexperienced or poorly educated. The therapist might be out of tune with the receiver and inadvertently push beyond the client's comfort zone. That being said, we often here "ahhh, that hurt SO GOOD!"


Thai massage should be blissful for the receiver. Practiced with mindful intention to do no harm, it deftly encourages clients to their edge of flexibility but never beyond. It respects the body's limits. Each client therefore has the same experience of having a good stretch, regardless of whether they are relatively stiff or relatively open. The rocking, rhythmic quality of Thai massage and its gentle movements are experienced as both comforting and liberating.
Will Thai massage be covered with my Healthcare Provider? Do you have RMTs?
Yes, and yes! As one of the fastest growing modalities in North America, more and more Registered Massage Therapists are taking training courses in Traditional Thai massage. And with good reason too. It's as beneficial for their bodies as it is for yours and can prolong the longevity of their career. If you require a receipt for your Health Insurance provider, please be sure to specify an appointment with a Registered Massage Therapist at the time of booking.

Check your policy coverage too! We have Holistic Practitioners licensed by the City of Toronto. Many Health Insurers are moving towards providing benefits for Holistic services as well so you may in fact be covered.

Don't have health insurance benefits? Did you know that in the province of Ontario, massage is an allowable claim as a medical expense? Read more about that here
Is it advisable for the elderly?
Thai massage is wonderful for elderly people and for those coping with disabilities. In many cases, it's exactly what they need. One of the main reasons people at a certain age start deteriorating rapidly in health is because they no longer move. Thai massage takes their muscles and joints through their optimal range of motion. This can be a profound and liberating experience for them. Thai massage is sometimes called "yoga massage" or "assisted yoga." Clients enjoy the benefits of yoga—from opening tight joints to deep relaxation—simply from being moved passively into yoga-like poses.
Is Thai massage good for pregnancy?
Thai massage is most definitely suitable for both pre and postnatal pregnancy but please ask us first so that we may book you with a member of staff who is trained specifically for this. Much of the benefit of massage comes from increased blood flow and oxygen to the tissues, which can reduce or alleviate many common pregnancy discomforts including fatigue, back pain, sciatica, edema, constipation, headaches, varicose veins and muscle cramps. Improved circulation also increases nutrient flow and waste removal for baby.
What should I expect when I get there?
First and foremost, we want you to feel at home! Please hang your coat on the coat hook, take your shoes/boots off to leave under the bench and help yourself to a pair of flipflops. We would like you to fill out a detailed Client Intake form so our staff knows how best to address your concerns. We will serve you organic Lemongrass tea while you wait.

Thai massage is performed fully clothed on a mat on the floor. We supply loose clothing (Fisherman's pants) and should you wish to book an Infrared Sauna beforehand we will supply you with a sarong/wrap and a towel and flip flops. Just bring yourself and enter paradise!

We will demonstrate how to put the Thai Fisherman's pants on, but you can see step-by-step instructions here

Feel free to linger after your appointment should you wish another tea or some water!


I have allergies. What kind of ingredients are used in the oil massage and hot stem?
We know that allergies are becoming an increasing concern for many people. We use only the finest, organic coconut oils and lotions and essential oils including our signature Lemongrass oil which is available for purchase in our Gift Shop. Our hot stems (Luk Pra Kob) are filled with dried herbs.


Can I buy Gift Cards?
Good Karma:
[goo
d
] [
kahr
~mu
h
] verb
The act of gifting an awesome Thai massage experience and rewarding yourself too!
Absolutely! You can purchase a Good Karma 60 Minute Traditional Thai Massage for someone else (RMT service excluded) and receive a special bonus of $15 off your next massage. What better way to share the gift of touch? Cannot be purchased for personal use. Credit is not transferable.

OR you can also purchase a Prepaid Cash Card for any dollar amount you choose. ($15 credit does not apply)

And finally, there is nothing like the gift of touch. Buy an Introduction to Traditional Thai Massage Workshop for yourself and/or a friend and you each get a $15 credit towards your next massage with us added on to your account on the day of registration. At $75 per person, you can't go wrong!