Monika Volkmar Senior Practitioner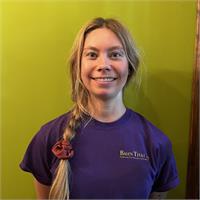 My original study was in dance at Ryerson University, although my career was cut short by a series of injuries. Determined to see this as a positive thing, I entered the world of fitness, movement, and bodywork, as a way of learning how to heal myself. I first began working as a personal trainer, helping individuals like myself who struggled with chronic pain and injuries, to become stronger and move more healthily. I was then drawn to study Thai massage as a compliment to my personal training practice, and never would have imagined that it would become such an integral part of my life and professional practice, not just an "add-on". I practice Thai massage not only because I see the benefit it has for the receiver- reducing pain, improving movement quality, stress relief; Thai massage serves as a movement and meditation practice for myself that continues to inspire me to take care of my own body and mind so that I can continue to serve others in their own journeys to take care of themselves. My credentials include the study of Anatomy in Motion™, Functional Movement Screen, Neurokinetic Therapy™, Postural Restoration Institute: Myokinematic and Pelvis Restoration, and Thai abdominal massage/Chi Nei Tsang.
Pressure: Moderate to Deep
Monika Volkmar Senior Practitioner is currently not instructing any classes.